My O.C.: The Demise of Pantyhose?
A quest for stockings leads to some discoveries about modern times. by Barbara Neal Varma

I stood center stage in the lingerie department at Nordstrom, confused. Where had all the pantyhose gone?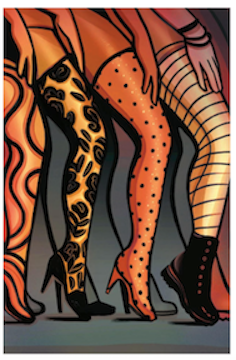 All the other underthings for ladies were there—the comfies, the sexies, the out-of-my-price-range designer bras and matching panties.
But not a nylon in sight—which was worrisome because the next evening I was supposed to get dressed up for a long-awaited return to Hollywood's Magic Castle, a rare outing north of Jamboree these pandemic days. I'd met my husband there more than 20 years ago, so it remains a favorite place of ours. The Castle was welcoming guests back, in a limited capacity and with its strict dress code still in place; suits and ties for the gents, cocktail dresses for the ladies—and don't forget to BYOM (Bring Your Own Mask), please.
I'd already dusted off a little black number that I was relieved to discover still fit. Though what was once a tad loose was now a bit snug, blame all the COVID-19 comfort food of late. The greater challenge was covering my winter-pale, spider-veiny legs. I turned this way and that in the full-length mirror, frowning. It would definitely need some high-end hosiery to smooth things over and ease back into society.
Which is why I came here to my friendly neighborhood Nordstrom, intent on getting some emergency hose and a cup of its cure-all tomato soup from the in-store cafe. But so far, I was stuck in lingerie land and starting to sweat.
I looked around Wait, didn't there used to be a big hosiery display over there? And above it, a chorus line of mannequin legs, each modeling a different color and style? Now only a bare wall stared back at me, not even a dusty outline to hint at the glam pantyhose parade that had been there. Crumbs.
I should have seen this coming. Even before the pandemic, the decline in hosiery as a fashion choice had begun. In the late 1990s, records show, women began to opt out of wearing nylons altogether, choosing comfort over coverage. It was this generation's bra-burning movement—a cry of protest against a man-made fashion trend, telling the world hell no(!), we won't go through hours of discomfort again.
When working from home became more prevalent, many women who had yet to join the resistance suddenly went all in, forsaking their hosiery and high heels for more cozy attire. Zoom call with Corporate at 10 a.m.? No problem. Business attire on top, jammies on the bottom and you're good to go, no one the wiser.
For the record, I DO realize none of this compares to the larger problems facing Orange County such as virus variants, wildfires and rising prices at the gas pump, to name a critical few. But when life gets crazy, I tend to reach for the familiar. I'd been wearing nylons since I was a teen and I like the look and feel of them. Hey, if they were good enough for my high school prom—not to mention both my weddings—they were good enough for next night's return to the Magic Castle.
A thought occurred. Maybe the store had moved the hosiery—"so yesterday," apparently—to a less conspicuous area. I went to the nearby purchase counter and made gentle inquiry.
The saleswoman nodded and gestured for me to follow her. Hope bloomed, and then was dashed when she showed me to a small metal A-frame stand so low to the ground I almost tripped over it. A scant half-dozen packages were scattered on its angled sides. I picked one up, saw the color was Midnight Blue and put it back. I chose another one; nude, OK, good start, but size A, petite. Next.
The third choice was a slightly tattered Donna Karan. I couldn't find a color label on the package but the tiny patch of nylon peeking through the cellophane looked beige, which was doable. True, it was a size larger than I thought I needed—call me optimistic—but I was running out of time.
"I'll get these," I said, and handed the saleswoman my prize.
Turned out the Donna Karans performed quite well at my return to the Castle and the extra size provided extra comfort, a hosiery hack I wish I'd known long ago. As anticipated, there was lots of magic to see that evening, lots of hand-holding with my husband. But for me, the truly jaw-dropping moment was when a young woman, also wearing a short black dress, was pulled onstage, ostensibly to help the magician.
I couldn't stop staring at her legs. Or more accurately, what she wore on them: sheer black pantyhose with cute little polka dots. They looked good! Stylish. Fun. And the polka dots—any pattern, actually—would provide extra coverage for my gracefully aging gams. Best of all, the gal couldn't have been more than 30, which meant leg lingerie might be making a comeback.
The next day I was searching online for sheer black, patterned pantyhose when a friend who'd heard all about my stockings quest sent me a text. There, glowing in my phone screen, were the missing mannequin legs, each one sporting a different stockings style, just like I remembered. Below the pic, those three little words: "Target has nylons!"
And that, ladies and gentlemen, is where I finally found a variety of pantyhose for the many date nights to come in 2022. Of course, at Target there were no salespeople helping me make the right fashion choices, so I took my cue from the nearby mannequin. Her dresser had paired her patterned hose with a sassy flared skirt I liked so much I bought one, feeling just like Emily in Paris, if a tad older.
I drew the line, however, at copying the model's footwear. No way was I going to walk around at the Magic Castle in a pair of chunky Doc Marten-esque boots.
Those didn't look comfortable at all.
(Original work published in Orange Coast Magazine, March 2022 issue.)